CareMax's 2022 Impact Report highlights its commitment to improving the health of underserved populations and sustaining its positive effect on communities, patients and their families, team members, and stakeholders.
Miami, FL – June 1, 2023 –  CareMax, Inc. ("CareMax") (NASDAQ: CMAX; CMAXW), a leading technology-enabled value-based care delivery system, has released its 2022 Impact Report. CareMax's 2022 Impact Report highlights the strides CareMax has made in a short period of time and the stories behind its success.
"Our approach to healthcare extends beyond traditional medicine and incorporates a whole-person view of the patient, designed to address their physical, emotional, and social needs," said Carlos de Solo, Co-Founder and CEO of CareMax. "Through our impact report, we proudly share the stories of how we are making a difference by improving the health and well-being of our patients, empowering individuals, and serving our communities. Together, we are driving change and building a brighter future for all."
CareMax employs a Whole Person Health approach, prioritizing prevention, healthy behaviors, improved access to specialists, and chronic disease management. In 2022, CareMax patients saw a 69% reduction in emergency room visits per thousand and a 46% reduction in hospital admissions per thousand when both are compared to the national average. CareMax patients also performed above the national average when it came to controlling chronic conditions like diabetes and hypertension, breast cancer screenings, and adherence to medication. CareMax achieved a Centers for Medicare and Medicaid Services (CMS) 5-Star Rating across all clinical and pharmacy measures.
To further engage with the communities it serves, CareMax continues to build strong alliances with government agencies and other organizations. Working with community partners, CareMax raised more than $1.5 million in resources, including food, water, and supplies, and delivered them to the Florida areas hardest hit by Hurricane Ian.
To learn more about CareMax, please visit www.caremax.com.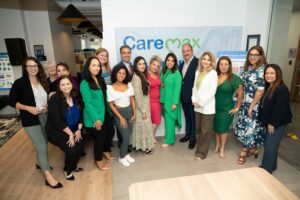 Click here for more high-res photos from the Impact Report launch.
-###- 
About CareMax
Founded in 2011, CareMax is a value-based care delivery system that utilizes a proprietary technology-enabled platform and multi-specialty, Whole Person Health model to deliver comprehensive, preventative, and coordinated care for its members. With over 200,000 Medicare value-based care members across 10 states and fully integrated, 5-Star Quality rated health and wellness centers, CareMax is redefining healthcare across the country by reducing costs, improving overall outcomes, and promoting health equity for seniors. Learn more at www.CareMax.com.
Contacts:
Media
Jaime Ameglio
Marketing & Communications Director
Investors
Samantha Swerdlin
VP Investor Relations